Compliments of the Season peeps. Hope you had a wonderful Christmas with your loved ones.
If you read my last post, you know that i decided to part with my penny box and give the money to someone who needs it more than i do. I struggled a lot and couldn't decided who to donate the penny box to. But, in the end these are the two charities that i decided to go with.

image source: Sense
One evening while i was watching TV, this advertisement came up about a Voluntary organisation called Sense. A UK charity

supporting people of all ages who are deaf blind or have associated disabilities.
I had tears in my eyes when i saw the advert. We make a big list of the things we want, for example my Christmas Wishlist. But these innocent souls are praying to God for Vision and Hearing, the gifts that we have taken for granted and do not value at all.
Sense
support and promote the interests of people who are deafblind, multi-sensory-impaired, or who have a single sensory impairment with additional needs. Read more about Sense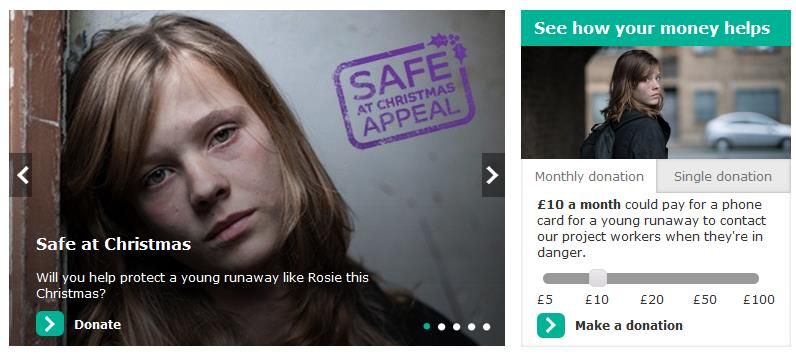 image source: the Children's Society
The second one is the The Children's Society. This is all about little angels who deserves to be happy and loved, not poverty, harm and neglect. The Children's society looks after kids who are in danger, who have suffered violence and also those kids who have to grow up fast, the young carers.

Read more about The Children's Charity
I personally have been gifted in abundance. If i start writing the things i have, i won't stop and yet i complain that i don't have this Jacket or that bag or shoes and so on. Reading about these vulnerable kids makes me think that i received countless blessings and i don't seem to value the blessings i have received.
I hope and pray that i continue to look up to these beautiful and amazing inspiring people every time i feel lonely and sad.
By the way, my penny box raised £41.43. Not a lot of money but does make a difference. This is the highlight of my Christmas guys and i'm not lying, the feeling of giving is amazing.
Do whatever you can, big or small, every little counts.